Max Henrichs
Dave Grosse
Above is David Groose's
Air Scoop Newsletter - March 2021
We want to thank John Sandy for hosting the March Club meeting. John has an excellent work space in his second garage. He furnished coffee and bottled water. Wish my work area was half a neat. He must have 20 RC planes that fly that were all stored above on shelves. Thanks to Dave and Farrell for bringing donuts. Meeting went well with social distancing and masks.

There was a great day last month were several guys went flying. Sorry I missed that date. But I didn't miss the flying on March 4. About 6 guys were out. 60 degrees and 5 mph SW winds. Beautiful day. No mishaps. I had an motor explode on a take off. Never seen this happen before. Actually fount the outrunner container with one magnet missing and the prop. Doug was tuning small engines, so he didn't fly. But Gilles, Hungerford, Sandy and myself had some nice flights. Some pictures of yesterday are shown below.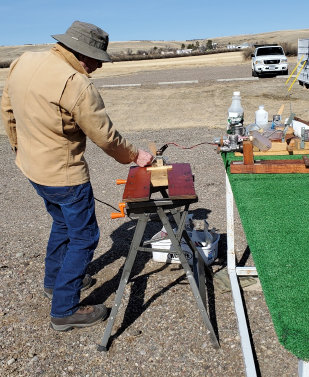 Below is some information on the upcoming FAA test all RC recreational flyers must pass. Maybe Darrell can explain this a little more at the next Club meeting.

Changes Coming Later this Year
The law also requires:

Recreational flyers to pass an online aeronautical knowledge and safety test and carry proof of test passage.
The FAA to issue guidance for how it will recognize community based organizations.
The FAA is incrementally rolling out these features and requirements.
Below is an AMA link with info and a video on this testing process. Check it out by clicking on the below link.
Below are some pictures of interest to share
1st flights of the year:

Be sure to do a complete pre flight check of all cleavages, connections, control surfaces are working correctly and in the right direction. Safety is a must. I'm always a little nervous my first flights of the year, even though I've been flying RC for 30 years. I think its not me that has some stress until they get things wired up. It's like riding a bike, but more stressfull, maybe. ,